MEASURING YOUR RING SIZE
1. Measure Your Ring Size with a Finger Strip Chart


To create your own ring sizer, print and cut the strip below. Insert the narrow end of the sizer through the "cut here" slot. With numbers on the outside, place the loop around your finger, and pull until the fit is snug but comfortable. In order to print the ring sizer on this page, be sure that your printer is set to 100%.

2. Determine Your Ring Size with an Existing Ring
Use a ring that fits you to determine your ring size. Place your ring over the nearest size circle. The inner edge of the ring should align with the outer edge of the circle. If your ring appears to fit between two sizes, buy the larger size.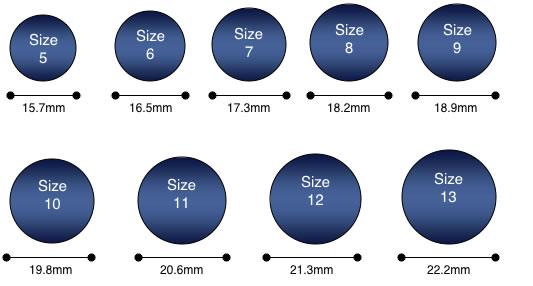 3. Determine Your Ring Size with a String Sizer
Wrap a piece of loose string around your finger. Be sure to allow for the size of your knuckle.
With a pen, mark the point on the string where the end meets.
Using the chart below, place the end of the string on the left hand line next to the letter "A."
Stretch the string along the sizer toward the numbers.
The pen mark on your string should line up with a number to indicate your ring size.
You may also measure the length of the string and use the chart below to determine your ring size:
Ring Size
Measured Size
USA
inches
mm
cm
4
1.8307"
46.5
4.65
4 1/2
1.8818"
47.8
4.78
5
1.9291"
49.0
4.90
5 1/2
1.9803"
50.3
5.03
6
2.0275"
51.5
5.15
6 1/2
2.0787"
52.8
5.28
7
2.1259"
54.0
5.40
7 1/2
2.1771"
55.3
5.53
8
2.2283"
56.6
5.66
8 1/2
2.2755"
57.8
5.78
9
2.3267"
59.1
5.91
9 1/2
2.3740"
60.3
6.03
10
2.4251"
61.6
6.16
10 1/2
2.4724"
62.8
6.28
11
2.5236"
64.1
6.41
11 1/2
2.5708"
65.3
6.53
12
2.6220"
66.6
6.66
12 1/2
2.6732"
67.9
6.79
13
2.7204"
69.1
6.91
---
International Ring Size Chart

USA & Canada Ring Size
Diameter (Inches)
Great Britain
France (mm)
Germany
Japan
Switzerland
000
0.390
---
---
---
---
---
00
0.422
---
---
---
---
---
0
0.454
---
---
---
---
---
½
0.462
A
---
---
---
---
¾
0.471
A-½
---
---
---
---
1
0.487
B
---
---
1
---
1 1/4
0.495
B-½
---
---
---
---
1 1/2
0.503
C
---
---
---
---
1 3/4
0.511
C-½
---
---
---
---
2
0.520
D
41 1/2
13 1/4
2
1 1/2
2 1/4
0.528
D-½
42 1/8
13 1/2
---
---
2 1/2
0.536
E
42 3/4
13 3/4
3
2 3/4
2 3/4
0.544
E-½
43 3/8
---
---
3 3/8
3
0.553
F
44
14
4
4
3 1/4
0.561
F-½
44 5/8
14 1/4
---
4 5/8
3 1/2
0.569
G
45 1/4
14 1/2
5
5 1/4
3 3/4
0.577
G-½
45 7/8
14 3/4
6
5 7/8
4
0.586
H-½
46 1/2
15
7
6 1/2
4 1/4
0.594
I
47 1/8
15 1/4
---
7 1/8
4 1/2
0.602
I-½
47 3/4
15 1/2
8
7 3/4
4 3/4
0.610
J
48 3/8
---
---
8 3/8
5
0.619
J-½
49
15 3/4
9
9
5 1/4
0.627
K
49 5/8
16
---
9 5/8
5 1/2
0.635
K-½
50 1/4
16 1/4
10
10 1/4
5 3/4
0.643
L
50 7/8
---
11
10 7/8
6
0.652
L-½
51 1/2
16 1/2
12
11 1/2
6 1/4
0.660
M
52 1/8
16 3/4
---
12 1/8
6 1/2
0.668
M-½
52 3/4
17
13
12 3/4
6 3/4
0.676
N
53 3/8
---
---
13 3/8
7
0.685
O
54
17 1/4
14
14
7 1/4
0.693
O-½
54 5/8
17 1/2
---
14 5/8
7 1/2
0.701
P
55 1/4
17 3/4
15
15 1/4
7 3/4
0.709
P-½
55 7/8
---
---
15 7/8
8
0.717
Q
56 1/2
18
16
16 1/2
8 1/4
0.726
Q-½
57 1/8
18 1/4
---
17 1/8
8 1/2
0.734
R
57 3/4
18 1/2
17
17 3/4
8 3/4
0.742
R-½
58 3/8
18 3/4
---
18 3/8
9
0.750
S
59
19
18
19
9 1/4
0.759
S-½
59 5/8
19 1/4
---
19 5/8
9 1/2
0.767
---
60 1/4
19 1/2
19
20 1/4
9 3/4
0.775
T
60 7/8
19 3/4
---
20 7/8
10
0.783
T-½
61 1/2
20
20
21 1/2
10 1/4
0.792
U
62 1/8
20 1/4
21
22 1/8
10 1/2
0.800
U-½
62 3/4
20 1/2
22
22 3/4
10 3/4
0.808
V
63 3/8
---
---
23 3/8
11
0.816
V-½
64
20 3/4
23
24
11 1/4
0.825
W
64 5/8
---
---
24 5/8
11 1/2
0.833
W-½
65 1/4
21
24
25 1/4
11 3/4
0.841
X
65 7/8
---
---
25 7/8
12
0.849
Y
66 1/2
21 1/4
25
26 1/2
12 1/4
0.858
Y-½
67 1/8
21 1/2
---
27 1/8
12 1/2
0.866
Z
67 3/4
21 3/4
26
27 3/4
12 3/4
0.874
Z-½
68 3/8
---
---
28 3/8
13
0.882
---
69
22
27
29
---
Apparel | Artwork | Aromatherapy | Astrology | Books | CDs | Charts | Chemicals | Clearance | Colloids | Consultations | Courses | Distillers | eBooks | Elixirs | Equipment | Gemstones | Glassware | Gold | Herbs | Initiatics | Instruments | Jewelry | Laboratory | Mandalas | Meditation | Monatomics | Music | Oils | ORMES | Periodicals | Posters | Resources | Ritual | Scrolls | Shilajit | Silver | Spagyrics | Statues | Stones | Supplements | Talismans | Tinctures | Tonics | Tools | Touchstones | Videos